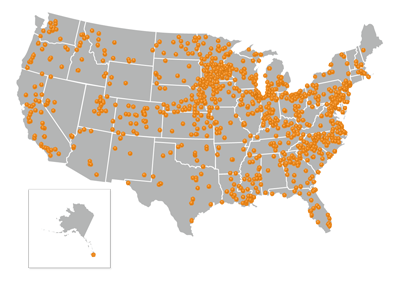 Individuals who live in rural communities often find it more difficult to receive medical care than their urban counterparts. With a dwindling number of physicians practicing in rural areas, greater distances for patients to travel, and a struggle for many patients to find adequate transportation, it can be hard for a rural ophthalmology practice to provide a high level of service. Sightpath Medical helps keep rural practices strong with access to industry-leading equipment and outstanding service, close to home.
Our mission
Sightpath Medical's primary goal is to make high-quality ophthalmic care a possibility for everyone, regardless of location. We understand the importance of reaching out to rural communities in particular, which is why many of our services are specifically designed for small practices with tight budgets.
Affordable pricing
Practices who are operating on a budget don't need to worry about cleaning out the bank to acquire the latest and greatest ophthalmic equipment. Sightpath provides surgeons with top-of-the-line equipment without the expense (or hassle) of capital investment. Simply put, we bring all the necessary equipment directly to your door, then take it with us once your case day is over.
No storage hassles
Sightpath Medical's services are ideal for small practices, hospitals, and ASCs. We understand that ophthalmology equipment takes up a lot of space – for this reason, we provide all of our equipment the day of and then remove it once your case day is complete. Our equipment is also carefully calibrated before each visit to make sure that your case day runs as smoothly as possible.
Industry leading technology
Sightpath Medical prides itself on staying up to date with industry research and technology. Rural physicians and hospitals who work with us receive access to the latest in ophthalmic equipment including femtosecond lasers and advanced-technology IOLs. Sightpath's resources provide rural patients with the opportunity to receive high tech care without traveling to the nearest metropolitan area.
---