Meet MoFe®: Mobile Femto for Cataract Surgery
Sightpath shares the knowledge and expertise gained from assisting in more than 75,000 laser cataract procedures.
Sightpath provides all of the equipment and support needed for a successful surgery day. Our comprehensive suite includes the LenSx laser, surgical supplies, manufacturer engineer, clinical support, implementation resources and access to customizable practice marketing tools. With the MoFe option, there is nothing stopping you from offering laser cataract surgery at your facility.
---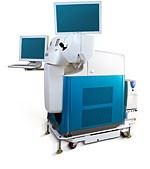 LenSx® Laser
The Alcon LenSx® Laser is a fully-integrated, image-guided femtosecond laser designed specifically for refractive cataract surgery. It automates many of the most challenging steps of cataract surgery using a customizable 3-D surgical platform. The LenSx Laser is used in more cataract surgeries than any other laser.1
Advanced Equipment
MoFe customers may choose to add Sightpath's traditional cataract service, which includes advanced equipment. We offer next-generation phacoemulsification systems including the Alcon Centurion, Johnson & Johnson Vision Signature and Bausch&Lomb Stellaris. Also, YAG lasers from Ellex and Nidek are available to help you provide superior patient outcomes. With our traditional cataract service, Sightpath offers access to a Phaco device, board-certified CST, and all of the instruments, IOLs and supplies needed, including a backup Phaco system, to ensure a successful, productive surgery day.
Unique Support
The MoFe Stabilizer is Sightpath's unique device designed for optimal patient head positioning. Not only can it help reduce movement, thus increasing the likelihood of a free-floating capsulotomy, the MoFe Stabilizer also elevates the neck to create an even plane for effective laser docking.
MoFe Adoption & Affordability
Drs Patterson & Bregman, both from TN, share their impressions about adding the femtosecond laser for cataract surgery into their practices.
MoFe Site Inspection
Before becoming a customer, a site survey must be completed for all mobile Femtosecond Laser for Cataract Surgery customers. See what that entails.
Meet MoFe
Dr. Larry Patterson discusses his MoFe implementation process and the benefits of working with the market leader.
Testimonials – Dr. Daniel Bregman
Dr. Bregman with Eye Health Partners in Nashville, explains how partnering with Sightpath has made offering Laser-Assisted Cataract Surgery a reality for his practice.