Thank You for Helping Us Reach 2,000,000 Eyes!
We are excited to share this milestone with all the cataract and refractive surgeons, administrators, partners and vendors that have been with us along the way.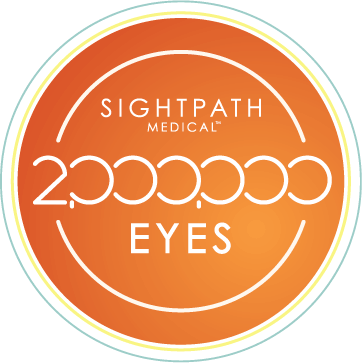 Sightpath Medical was founded on the belief that quality eye care and the most advanced technology should be available to everyone, everywhere. For more than 20 years we have worked side-by-side with practices across the nation to provide patients with better vision. We offer a heartfelt thank you and congratulations to the surgeons, their support teams and the Sightpath employees who have played a role in reaching this significant milestone.
Sightpath On The Move
Sightpath employees travel over 3 million miles ever year to deliver quality care, close to home. We are pleased to serve more than 1300 surgeons in 49 states.
From The Start
We pride ourselves on delivering the latest technology with outstanding technical, clinical and marketing support. All we do is eyes, all day, everyday.
2,000,000 Eyes
Sightpath Medical commemorated 2,000,000 eyes corrected at HQ on September 17, 2014.