On Sunday evening, Sightpath invited current and prospective users of its MoFe (Mobile femtosecond for cataract surgery) service to a panel discussion featuring surgeons who have successfully integrated laser-cataract surgery into their existing practice offerings. The event was recorded, and the video will become available on the Sightpath website in early December.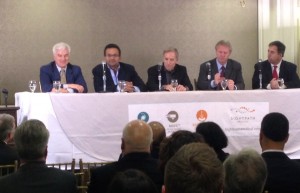 In attendance, were Sightpath MoFe customers Larry Patterson, MD, Jitendra Swarup, MD, Dan Whipple, MD, and Mark Kontos, MD, as well as Vance Thompson, MD, who owns his own equipment. The event was moderated by Matt Jensen, CEO of Vance Thompson Vision. It was intended that by representing several regions of the country and varying practice types, everyone in the audience might find someone on the panel with whom they identified. 
The conversation was at times intense, as the surgeons all appeared passionate about the technology and benefits that they've seen in their patients' outcomes. There were also quite a few funny moments during the evening that made the 75 or so guests in attendance laugh out loud.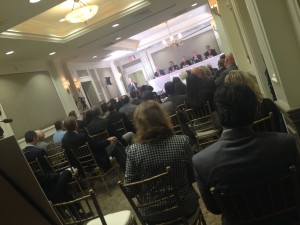 Following prescribed topics, the participants responded directly to questions, and then joined those in the audience and the Sightpath staff for a cocktail reception so they could speak individually and provide additional color around this new technology and their adoption. The feedback on this event has been very positive so far, stay tuned for future events of this kind.