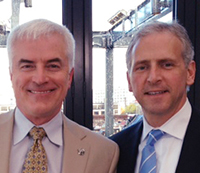 Did you miss Sightpath Medical MoFe® Users Group meeting at the recent ASCRS Annual Symposium & Congress?
This panel discussion featured early adopters of laser-assisted cataract surgery from across the nation offering pearls and insights into their adoption process. Highlights of the session included clinical insights on topics such as capsulotomy size, centration and free-floating rates, lens fragmentation patterns, clinical implications of mobile versus fixed access, and procedure expectations versus outcomes. The speakers provided in-depth information in a light and entertaining atmosphere. If you missed it, you missed out! Click here to view a video of the discussion moderated by Larry Patterson, MD.
2014 ASCRS MoFe Panel Discussion from Sightpath Medical.