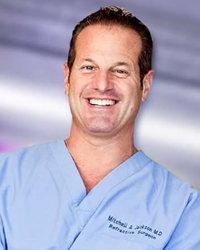 At Sightpath, we are proud to partner with surgeons and practices who are focused on implementing the most advanced technology and providing the highest quality care to their patients. When Dr. Mitchell Jackson, of Jacksoneye in Lake Villa, Illinois, became the first in Illinois to become Raindrop Certified, Sightpath was there to help him and his team execute each procedure seamlessly.
Raindrop is a device designed to help those living with presbyopia eliminate the need for reading glasses. With just a quick procedure, lasting around ten to fifteen minutes, a small, transparent disk called an inlay is inserted to change the curvature of the cornea and provide a long term solution to those impacted by near vision loss that comes with aging.
By providing all surgical equipment, manufacturer certified engineer, clinical support and handling the entire ordering and inventory management process, Dr. Jackson is able to focus less on procedure preparation and more on flawless execution and patient care. After his first day of successful cases, we sat down with Dr. Jackson to ask him more about how they've implemented Raindrop:
How did you find the first six patients needed to become certified on the Raindrop procedure?
We reached out to our internal presbyopia database who are are not yet looking for cataract surgery but were looking for presbyopia correction. We were able to explain the benefits and outcomes of the Raindrop procedure to them and they were excited to be part of this new offering at Jacksoneye!
Did you need any special equipment in order to implant the inlay? 
Other than the Intralase laser to create the flap, and a few instruments typically used in LASIK to deliver the inlay, it has been relatively simple to add Raindrop to our practice offerings.
Did you find the procedure difficult to perform in comparison to other surgeries you offer? 
It is very similar to LASIK so I would say that an experienced LASIK surgeon will have a small learning curve of maybe 1-2 cases.
Are you planning on continuing to offer the Raindrop inlay to other patients?
Absolutely. Not only is the procedure fast, but the results are amazing for patients with presbyopia! 98% have reported the ability to read a newspaper and 88% could read fine print glasses free. Raindrop is an awesome solution for those who are tired of constantly switching back and forth between their reading glasses.
Sightpath Medical is pleased to work with surgeons and practices around the country to offer Raindrop to their patients. With dozens of procedures completed in 2016, we are excited to partner with more surgeons offering this new technology in 2017.