Refractive is in the house! For everyone!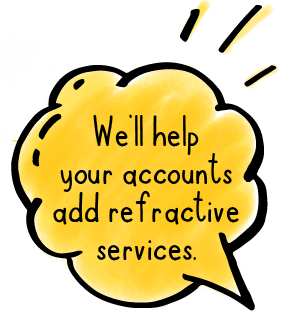 In our experience, lack of access to refractive equipment on a small scale stunts the growth of AT-IOL adoption. Imagine how excited your best customer will be when you offer them the idea of adding LASIK services to their practice!
Did you know Sightpath has a fleet of trucks containing excimer and femtosecond lasers to do LASIK right in the doctor's office? The market is moving towards integration of services and the future belongs to those who adapt. Help your doctors be prepared for the future so that they can finally say: "Refractive is in the house!"
It's easier than you think, and you'll be glad you did. Your surgeons will thank you.
See how we deliver outstanding refractive service to practices around the country.