Engineer Spotlight: Dave Coon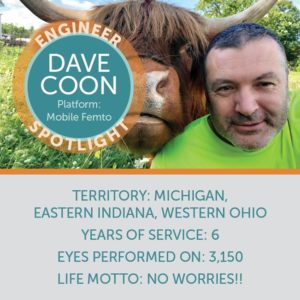 A mobile femtosecond (MoFe) engineer out of Michigan, Dave has been working for Sightpath Medical for almost six years. Dave installs, transports, maintains, and operates lasers across a three-state territory (Michigan, Indiana, and Ohio) for laser cataract surgery. He likes to laugh and have fun with his colleagues during case days; but being a MoFe engineer is no walk in the park. A typical case day can include anywhere from 5-20 cases throughout the workday. Dave has gotten to the site the night before to set up all the equipment. He shows up the next morning to re-calibrate the laser. Then, the surgeon can get started with their day right away.
Dave works with many surgeons across his territory and says that he appreciates learning from each one of them. "It's like in school," he says. "You don't learn all the subjects from just one teacher; the surgeons are no different. You learn different things from each one."
When asked about his favorite part of his job, Dave said: "I love to hear patients say they haven't been able to see this well since 1975 or something like that." Dave told a story about a patient who hadn't been able to see clearly since the 1970s and within minutes of the procedure saw a significant improvement. It overjoyed the surgeon and Dave to hear how fast the patient's vision improved. And this isn't a rare occurrence for our MoFe engineers. Dave hears patients say things like, "I have been missing a lot of dust in my house" or "I never realized I had that many wrinkles."
When Dave isn't working, you can likely find him enjoying the outdoors by hiking, camping, and fishing with his family or spending time with the animals on his hobby farm. He's a self-proclaimed US history geek, so, if you ever see him in the clinic, quiz him!
Dave is one of the many wonderful laser cataract engineers at Sightpath Medical. Want to learn more about our laser cataract services? Check out our risk-free trial program!